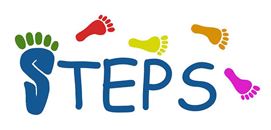 Who is the STEPS Centre for?
The STEPS Centre supports children and their families/carers who are new to Sandwell and the UK, and speak English as an additional language.
The STEPS Centre provides:
EAL development for children new to Sandwell and the UK and for whom English is an additional language
Information and short courses for their parents and carers
EAL CPD opportunities for Sandwell schools
Support for the transition of newly arrived children into Sandwell schools
Values and Aims
STEPS believe in working together for excellence for all. Our centre motto is Dream, Grow, Thrive.

To achieve this we all – centre staff, children, 'management committee' and parents/careers and community – need to be working together towards the same goals. Our children have a right to be safe have access to an education and learn. Centre staff have a right to teach and support children and families in a safe working environment built on mutual respect and tolerance.

Our aims are to:
Support Sandwell's admissions process and Safeguard all International New Arrivals
Provide International pupils (Sandwell residence) with a safe, welcoming environment where they are valued and encouraged to participate.
Use formative assessment to identify the learning strengths and needs of each pupil against the DfE proficiency in English Scale; and so minimise potential lost learning time in school.
Ensure that pupils and their families see their languages, culture and identity reflected in the classrooms, the Centre and as part of an inclusive curriculum designed around British culture and values.
Use data to support and inform the transition process of each pupil into school/college.
Provide a cohesive, multi-agency approach to supporting families and pupils throughout their time at the Centre and during the transition process into school/college.
Build capacity in Sandwell School to support EAL learners.
SHAPE: Sandwell Young People's Service
See our Privacy Notice.
Contact details:
Centre Manager and SENCO: Harpreet Kaur
Address: STEPS Centre
The Hollies
Coopers Lane
Smethwick
B67 7DW
Telephone: 0121 569 2799
Email: Steps_Centre@sandwell.gov.uk
If you wish to request a paper copy of any information held on the STEPS' website then please contact the school office.