Information about communal bins at flats
Some flats, apartments and other buildings share a large communal bin(s).
If you use this type of bin for your rubbish please remember:
Your bins will be collected every week.
The big bin with the green lid is for household waste. Check what goes in your household waste bin.
Some flats will also have a big bin with a blue lid, this is for recycling. Not every site will have a recycling bin. Find out what goes in your recycling bin. Some flats also have their own individual recycling bins.
Household waste bins and recycling bins may be collected on different days.
All waste and recycling must be put inside the bins. Rubbish and recycling that is not inside the bins will not be collected.
The bins are for household waste and recycling only - no furniture or large or bulky items should be put in or around the bins.
If you have larger items or furniture to dispose of these can be taken to the tip in Shidas Lane, Oldbury, or you can book a bulky collection.
If you need information, including checking when the bins for your building are collected, speak to your site caretaker.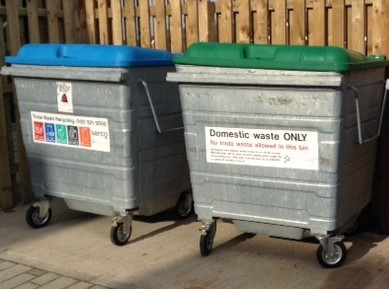 A note about recycling for residents that have communal bins
While we would like to provide everyone in Sandwell the facilities to recycling, unfortunately flats pose particular challenges around the correct items being placed in the shared containers.
Where we have previously introduced separate bins for recycling at locations where flats share communal bin(s) many of the facilities had to be removed due to an ongoing issue of correct recycling mixed with incorrect materials and general waste.