Two Sandwell householders have each been fined £400 after their waste was found dumped on the streets of West Bromwich.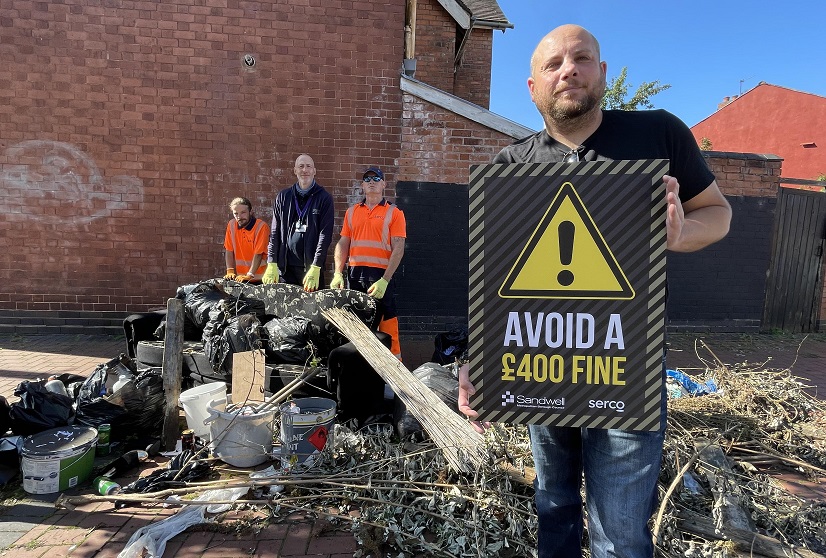 Sandwell Council is reminding residents and businesses "If it's your waste, it's your responsibility". Everyone has a legal duty of care to make sure all waste from their household or business is disposed of correctly. If it isn't they can face prosecution with an unlimited fine if their waste is fly-tipped. Even if someone else has done it, the owner of the waste can be held responsible for the crime.
One resident, who was witnessed by a member of the public dumping their waste and provided the enforcement team with information, was traced and admitted the offence and was issued with a £400 fixed penalty notice for fly-tipping.
Another resident who said she paid a 'man and van' £150 to take away rubbish was also fined £400 after the waste was dumped in Bilhay Lane and traced back to her. The resident did not follow in her duty of care so was issued with a £400 fixed penalty notice.
Under the householder's duty of care, anyone paying someone to dispose of their waste must ensure they use a reputable business. Sandwell Council advises people to follow these three simple steps when arranging for their waste to be disposed.
Check their waste carrier's licence number with the Environment Agency or call 03708 506 506
Ask for a receipt and where the rubbish is going.
Keep details of their business and vehicle used.
The fines are the latest to be issued by Sandwell Council as the authority clamps down on fly-tippers. The council has issued 47 fixed penalty notices (FPN) for fly-tipping, littering and failure of the householders' duty of care to use a registered waste carrier since April 2021.
Sandwell Council's Cabinet Member for Public Health and Communities, Councillor Syeda Khatun, said: "In Sandwell, we won't tolerate fly-tipping. Wherever we have evidence we will not hold back in holding people to account when they themselves have dumped rubbish or if they don't use a properly licensed waste company."
"We're asking people to always be wary of door-to-door offers to take waste away, or informal quotes on social media. Offers may be genuine, but if an offer looks too good to be true, it probably is. For instance, £50 would not cover the cost of disposing of a large van of waste legally. Always be cautious, as you are risking a large fine if your waste is fly-tipped."
A £400 FPN is reduced to £200 if paid within 10 days.
Sandwell Council provides a service for the collection of bulky waste that is too large for regular household waste and recycling collections.
Sandwell residents can also dispose of their waste for free at Sandwell's Household Recycling Centre (The Tip) in Shidas Lane Oldbury. Visits must be pre-booked in advance.
Anyone who has any information fly-tipping offences should report it online. Fly-tipping can be reported online.