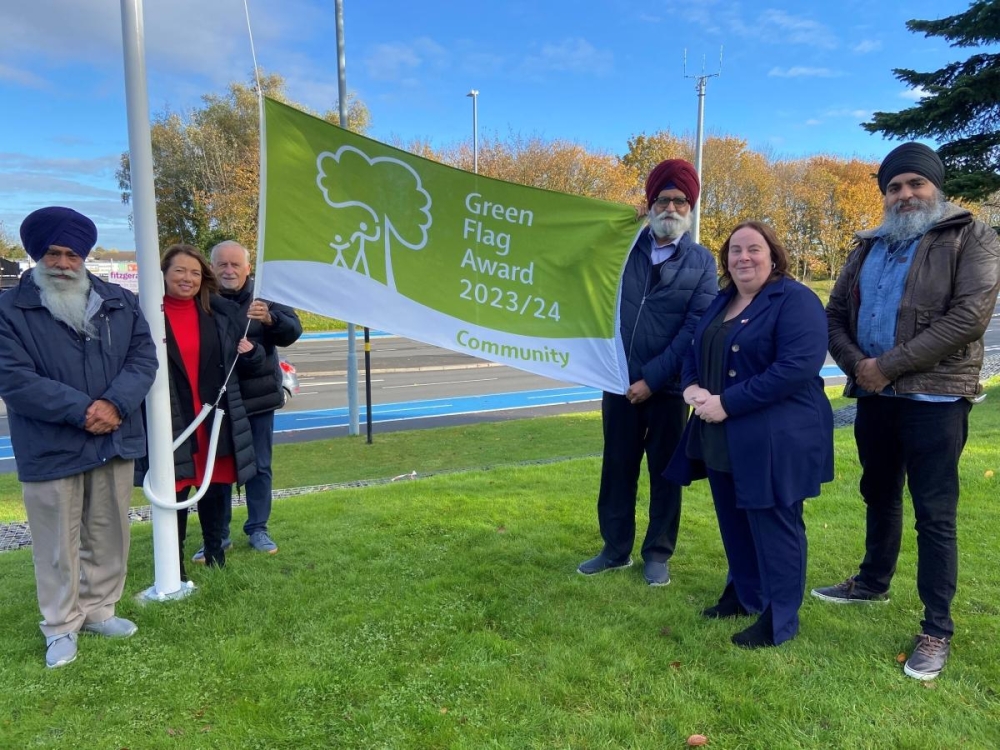 A flag has been raised at the Lions of the Great War statue site in recognition of its long-standing Community Green Flag status and to mark five years since the official unveiling.
The green space is looked after by volunteers from Guru Nanak Gurdwara Smethwick.
The site is home to a 10ft bronze statue depicting a Sikh soldier in a full length trench coat and honours the sacrifices made by South Asian service personnel of all faiths from the Indian subcontinent who fought for Britain in the Great War and other conflicts.
It was the first full statue of a South Asian First World War soldier in the UK when it was first unveiled on 2 November 2018.
The site gained its Community Green Flag status in 2020 and has retained this each year. It is one of 15 green spaces in Sandwell that are officially recognised as the country's best outdoor spaces.
Councillor Charn Singh Padda, Cabinet Member for Leisure and Tourism, raised the flag for the first time. He said: "It was an honour to raise the Green Flag at the site of the Lions of the Great War statue. It shows how proud we are of this iconic site in Smethwick and I'm pleased we have been able to install the flag in time for Remembrance events where we will undoubtedly see more people paying their respects.
"The green space is beautifully maintained and well-deserving of the Green Flag Award. I thank all the volunteers who work hard all year round to look after this site. It's so inviting to visitors and the poignant statue is a reminder of all those brave men who travelled thousands of miles to fight for a country that wasn't their own."
Kuldeep Singh Deol, President of Guru Nanak Gurdwara Smethwick, said: "Lions of the Great War is a real gem in the heart of the town and it has been maintained over the last five years for everyone to enjoy," he said. "This flag pole and fantastic Green Flag Award accreditation reinforces the hard work and commitment shown by Guru Nanak Gurdwara Smethwick's volunteers to ensure the green space continues to be a much-valued asset for the local community."
For more information about Lions of the Great War and the other Green Flag sites in Sandwell.