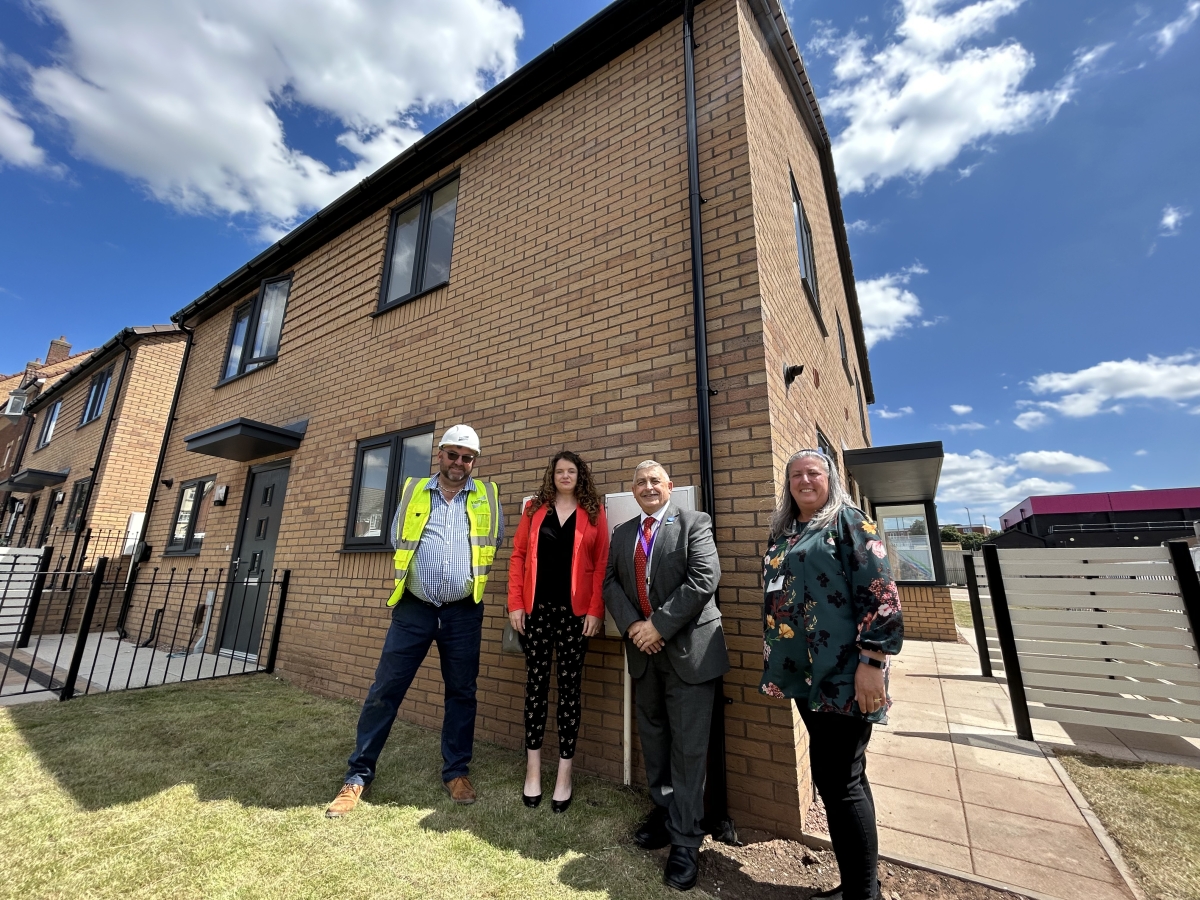 Five new council homes have been completed with tenants moving in at a new development at King Street in Wednesbury.
The new development has delivered four properties with two bedrooms and one property with three bedrooms. The homes provide much-needed additional housing for families in the area.
The houses form part of a project to develop the one-acre brownfield site, next to Wednesbury Leisure Centre as well as a modern health centre for the Spires Health Centre and the district nurse service. The health centre is scheduled to be completed later this year.
Councillor Laura Rollins, Sandwell Council's Cabinet Member for Housing and Built Environment, said: "It's fantastic to see tenants moving into these new homes which are in a fabulous location, close to Wednesbury town centre with excellent transport links.
"We know that high quality and affordable housing boosts wellbeing and helps our residents feel secure which is why we are investing in building new council homes that are available at affordable rates of rent. These are the first council homes to be built in Wednesbury for a number of years and this is one of a number of projects we are in the process of delivering across Sandwell.
"We have built 527 new council homes since 2016, we are currently building 80 new council homes and we have plans to build a further estimated 200 new council homes by 2027, making a potential of circa 800 new council homes. Alongside this, we are developing a future pipeline which it is hoped will bolster these numbers both up to 2027 and beyond."
Councillor Peter Hughes, Cabinet Member for Regeneration and the West Midlands Combined Authority, was delighted to visit the new homes. He said: "This development in King Street demonstrates our strong partnership working and our commitment to bringing about regeneration and bringing a brownfield site back into use.
"These are the first new council homes built in Wednesbury for many decades and, alongside the health centre, will benefit the local community for many years to come."
The scheme is part-funded by Homes England, whose Provider Management Manager, Francine Peck, said: "As a delivery partner through the Strategic Partnership Programme, Sandwell Council is delivering new affordable homes via the Affordable Homes Programme 2021-26. It's fantastic to see the homes at King Street completed. At Homes England we are committed to supporting our partners to increase the supply of good quality affordable housing in the communities where they're needed most. King Street is a fantastic example of this partnership approach to enable the delivery of much needed affordable homes."
Jason Barnes, Contracts Manager at Interclass Plc, said: "We are delighted to be able to hand over the final set of keys, knowing that these new homes will undoubtedly make a positive impact on both the tenants and the local community. Our continued strong partnership with Sandwell Council has enabled us to deliver these high-quality homes, effectively addressing the ever-growing demand for affordable housing in the region."