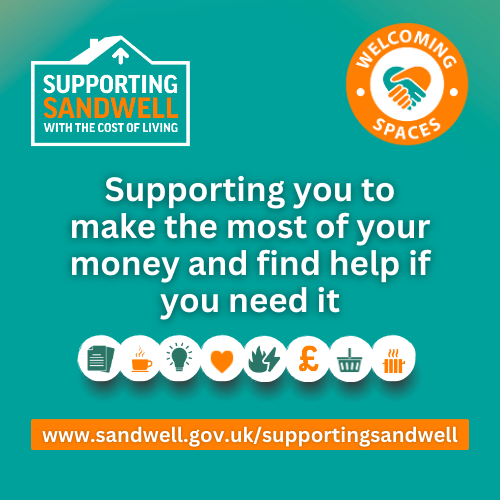 A new plan to tackle poverty in Sandwell will bring together a wide range of extra support and advice for residents.
This will build on work already under way to help people find work, access benefits, manage their money and deal with debt.
The Sandwell Tackling Poverty Plan sets out proposals and actions for the council and its partner organisations to work together in a co-ordinated way to address poverty.
The plan was endorsed by Sandwell Council's Cabinet yesterday (Wednesday 15 November).
Residents are urged to visit the Supporting Sandwell information hub to find out what support is available and to share this information with their families and friends.
Sandwell's network of more than 40 Welcoming Spaces provides places for residents who are worried about the high cost of living and would like to drop in and chat, join in free activities and get some support. Council buildings and many community centres, supported by the voluntary sector, are Welcoming Spaces. Find your nearest Welcoming Space.
Sandwell Council Leader Councillor Kerrie Carmichael said: "We are proud of the borough's response so far to tackling poverty and the ongoing cost of living crisis – but all of us recognise that more needs to be done.
"I welcome this Tackling Poverty Plan, which has been developed with our partners, to build on the good work taking place across Sandwell and to develop a longer-term approach to addressing the underlying causes of poverty.
"Together with a wide range of organisations including health and the voluntary and community sector, we are committed to supporting Sandwell residents who are living on low incomes and finding it hard to make ends meet.
"Our main message is – we're here to help and please seek help as early as possible to avoid any issues getting worse. Check out our Supporting Sandwell information hub or visit one of our Welcoming Spaces to get advice."
Sandwell's long-standing work to support residents on low incomes includes help finding jobs, a network of food banks and food pantries, community-based advice – alongside advice offered by the council's welfare rights service, and a wide range of information and advice on the council's website.
The council and partner organisations have developed the Tackling Poverty Plan following a cost of living summit held in March, which brought together more than 60 public, private and voluntary sector partners to coordinate Sandwell's efforts to support the community.
Louise Kilbride, CEO Sandwell Consortium, said: "The plan values the role of community organisations who reach people in their local neighbourhoods, provide immediate support and refer to the services they need. We are proud to be working with the council and other voluntary and community organisations to tackle poverty – partnership is the most effective way, and Sandwell residents deserve no less."
Geri Taylor, Interim CEO – Citizens Advice Sandwell & Walsall, said: "The ongoing cost of living crisis is pushing people into poverty where they are reaching crisis point very quickly. The Tackling Poverty Plan in Sandwell will support us to continue to work collaboratively to develop a longer term approach to address the underlying causes of poverty and shape a community where people face fewer problems."
Visit the council's website to read the Tackling Poverty Plan.