Introducing Sandwell's new Mayor
Published 23rd May 2023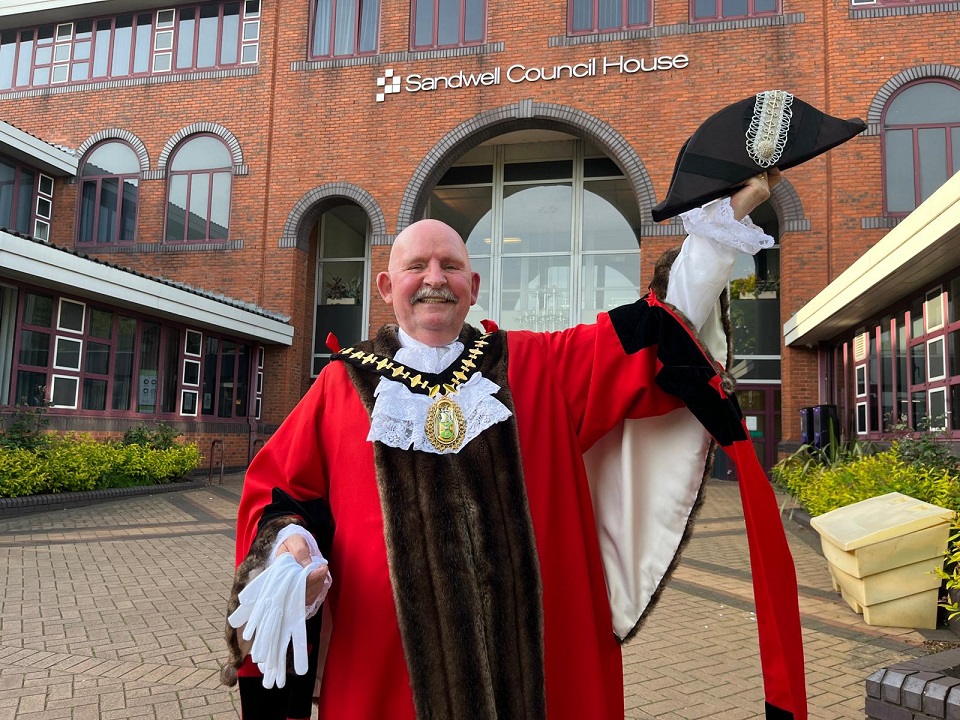 Councillor Bill Gavan (Langley ward) is the new Mayor of Sandwell following a ceremony in the Council chamber today (Tuesday 23 May). His Consort is his husband, Adam Kennedy.
Councillor Elaine Giles (Newton ward) is the new Deputy Mayor of Sandwell. Her Deputy Mayoress is her daughter Elizabeth Giles.
At the ceremony, votes of thanks were passed to the outgoing Mayor and Deputy Mayor.
The new Mayor confirmed that he will be raising money for dementia in Sandwell by supporting Age UK and BUDS (Better Understanding of Dementia for Sandwell).
"I am privileged and humbled to be elected by my councillor colleagues as Mayor.

"It has been a long journey to get here. 47 years ago I was able to kick the addictions of alcohol and drugs with the continuous help of AA. In 1997 I was founder chair of Birmingham Pride and in 2018 I was Cabinet Member responsible for the Sandwell Aquatics Centre, built on time, on budget and host to the Commonwealth Games.

"I have so many people to thank. Firstly I would like to thank the outgoing mayoral team for all their hard work over the last year. I would also like to thank my local MP, The Right Honourable Mr John Spellar for his continued support over the years, my AA friends world-wide, and the class of Birmingham Pride 1997 to whom I wish all the best for the biggest and best Pride ever in 2023.

"I also want to wish every success to the leader, Councillor Kerrie Carmichael, her cabinet and all councillors new and old across the chamber whatever their political allegiance.

"May I take this opportunity to thank my Deputy Mayor, Councillor Elaine Giles and her Deputy Mayoress Elizabeth Giles and finally my husband and Consort, Mr Adam Kennedy and his amazing family."

The Mayor is the first citizen of Sandwell. While the role is non-political, the Mayor presides over meetings of the council. The Mayor attends events across Sandwell and also represents the borough at functions outside Sandwell involving local residents and organisations.
Email mayors_parlour@sandwell.gov.uk for details on how to invite the Mayor to an event or how to make a donation to the Mayor's charities.