Legacy phase well under way at Sandwell Aquatics Centre
Published 11th November 2022
Exciting plans to deliver the legacy phase of the Sandwell Aquatics Centre – and to give Sandwell one of the best community leisure facilities in the country – are taking a huge step forward.
Following the eyes of the world focusing on international swimming, para-swimming and diving events there for the Commonwealth Games this summer, work is now progressing well on making the centre in Smethwick ready to open to the public in 2023.
In August, Sandwell Council officially handed over its purpose-built venue to Wates Construction for the legacy construction phase.
The first two phases were completed in partnership with Wates in time for the Games despite the challenge of the Covid-19 pandemic, Brexit and the wettest winter on record.
The legacy project sees the centre being remodelled and transformed into a state-of-the-art leisure centre for the people of Sandwell and the wider region, set to open to the public in summer 2023.
The now internationally-recognised venue will retain its 50-metre Olympic-sized swimming pool, 10-metre-high dive tower and 25-metre dive pool, along with seating for a thousand spectators.
In addition to these world-standard features, the centre will also boast the following facilities:
a community swimming pool (20m x 10m)
three 150 sqm activity studios
two four-court sports halls (690sqm each)
108-station fitness gym
25-station women-only fitness gym
33-station indoor cycling studio
changing village for up to 600 users
dry diving centre with mini floor trampolines
a sauna/steam room
new outdoor football pitch and changing facilities
new urban park and children's play areas
parking for up to 300 vehicles
café.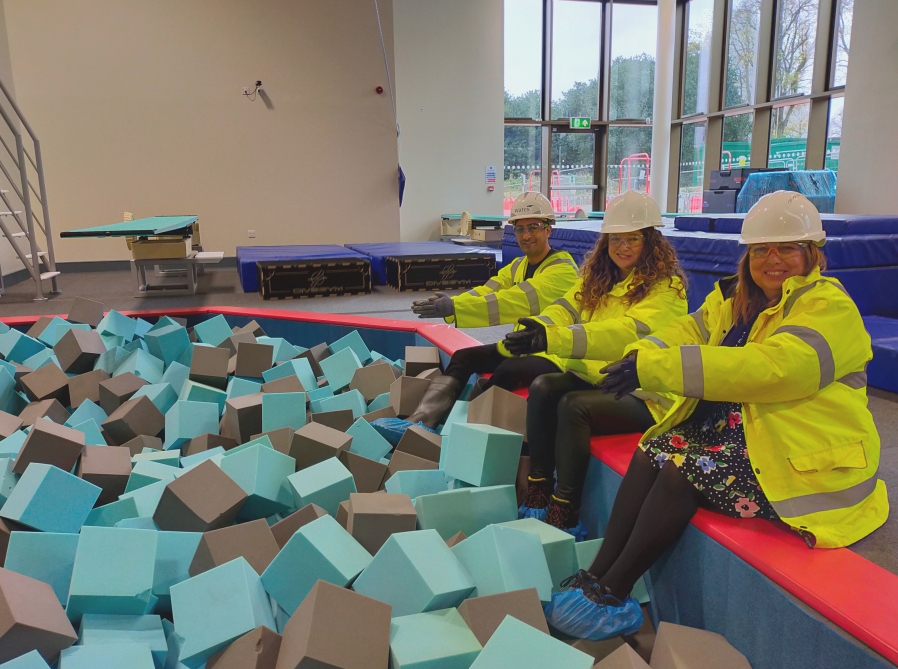 Sandwell Council Leader Councillor Kerrie Carmichael said: "The centre will be fantastic for Sandwell people who, together with the region's talented swimmers and divers, will benefit from having a world-class facility on their doorstep for decades to come.
"This amazing development is a key project for both regeneration and health – and the construction itself has already boosted the local economy by helping to create jobs, apprenticeships and work for local businesses in the supply chain.
"This was always designed as a community leisure facility first and tailored for use during the Commonwealth Games, rather than the other way around.
"The centre is part of the council's wider plans to regenerate Sandwell and drive further investment and opportunity, so it's great to see how the legacy phase is taking shape."
A swimming programme is currently being developed to meet the needs of local residents, schools and swimming clubs, to make sure the local community benefits fully from the centre.
Future plans will see the 10-metre high dive tower and all the diving boards fully used through a comprehensive diving programme, as well as developing a diving club for Sandwell and the surrounding areas.
Swim England is devising a regional diving programme across the region with a firm focus on Sandwell.
Councillor Laura Rollins, Sandwell Council's Cabinet Member for Leisure and Tourism, said: "Residents of all ages will want to use Sandwell Aquatics Centre and enjoy health, fitness and social benefits from what it has to offer. It will particularly help us to continue our work to increase children and young people's physical activity.
"Sandwell already has the most active kids in the region and fourth highest in the whole country. This has been achieved by working in partnership with community groups like the Albion Foundation, and also through Sandwell's extensive free school holiday swimming programme. We know there is more to do to encourage physical activity and this centre will help us with that.
"We can't wait to open the completed centre next year and to welcome visitors from Sandwell – and from around the country – to this fabulous facility."
John Carlin, regional director for Wates Construction, Midlands, said: "Since we started working on Sandwell Aquatics Centre we have always been focused on a design that provides a legacy for the community.
"By creatively adapting this design, we've been able to produce a world-class competition facility, which has played host to its first international sporting event this summer. It's a model of working which should be the template for future international events.
"This project has already generated so much positive impact through employment, local spend and social value, and we're committed to increasing this even more as we look towards our final handover, cementing the centre as a cornerstone of the Sandwell community for generations to come."
Nicola Turner, Director of Legacy for Birmingham 2022, said: "It's fantastic to see the work that is being done to transform the Sandwell Aquatics Centre into an incredible legacy facility for the local community.
"The Sandwell Aquatics Centre was a superb venue for the Birmingham 2022 Commonwealth Games, hosting dramatic swimming and para-swimming events and a spectacular diving competition, and we hope that young people from across the region will have been inspired by these performances and will be looking forward to using this facility very soon."
Raj Singh, head coach at Sandwell Aquatics Club, said: "The club is excited to move into a modern facility that will meet our needs and those of our community.
"The polo players can play in deep water and the swimmers can swim in a competition pool but more importantly we are excited to be able to continue provide lifelong participation in an aquatic sport."
Construction facts
To build the Sandwell Aquatics Centre, it took:
190,000 tiles
1.2 million gallons of water
1,900 tonnage of steel
3,000 metres square of concrete