Birmingham householder fined after rubbish dumped in Sandwell
Published 21st December 2021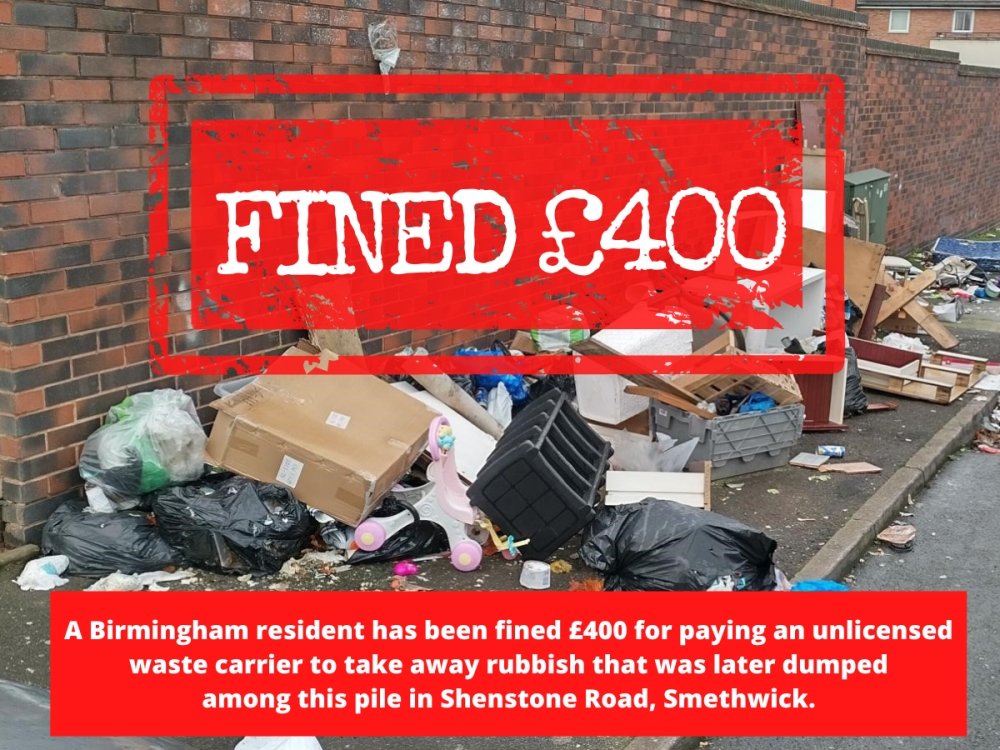 A Birmingham householder who paid an unlicensed waste carrier to take away rubbish which was later dumped in Sandwell has been fined £400.
Sandwell Council's Environmental Enforcement Officers came across the fly-tipped rubbish in Shenstone Road, Smethwick.
Evidence found among the black bags linked some of the waste to an address in Birmingham. Sandwell Council officers visited the address and issued a £400 fixed penalty notice (FPN).

It's the third £400 FPN that Sandwell Council has issued since September for someone failing in their duty of care when employing a waste carrier.
Under the Householder's Duty of Care, anyone paying someone to dispose of any waste must ensure they use a reputable business with a waste carriers licence.
Householders must also retain documents from the waste carrier which states the waste carrier's name, address, waste carrier licence number, registration number, what they are collecting and where they are taking it to dispose of.
The person whose rubbish was dumped did not have such documentation from the person who took away their rubbish.
Sandwell Council's cabinet member for environment Councillor Ahmad Bostan said: "Anyone using an unlicensed waste carrier is risking a large fine. If they dump your rubbish and we trace it back to you, you can expect a knock on the door from our environmental enforcement team.
"If you pay someone to take away your rubbish, you must make sure they have a waste carrier licence. They must also give you proper documents to show they are disposing of the waste legally.
"If a householder fails to comply with their responsibilities, they will receive a £400 FPN. It's a high price to pay if you've already paid a dodgy individual money who then goes on to dump your rubbish."
A £400 FPN is reduced to £200 if paid within 10 days.
Fly-tipping offences are published on Sandwell Council's wall of shame.
Anyone who has any information on any of the fly-tipping offences should email Enviro_Enforcement@sandwell.gov.uk where information will be treated in the strictest confidence.
Recipients of FPNs cannot be named in any publicity. Names of anyone associated with fly-tipping offences that are prosecuted in court will of course be provided to the media.
By law, householders are responsible for making sure the person who collects their waste is a licensed waste carrier.
Householders in Sandwell face a £400 fixed penalty notice in the following situations:
where fly-tipped waste can be traced back to an individual who is found to have failed to take reasonable steps to ensure they transferred the waste to an authorised person
where an unauthorised carrier is found to be carrying household waste that was directly transferred to them by the householder
where an individual is found to have transferred their household waste to an unauthorised person at a site that does not have a permit or exemption
To check if people are registered/licensed:
ask to see their waste carrier's certificate - they should show you the original copy
do not use waste contractors that won't show you this
keep a record of their details in case they fly-tip your waste and it is trace back to you
You can instantly check their waste carrier licence by calling the Environment Agency on 03708 506 506 or visiting the Environment Agency's public register.