Bromwich Hall - The Manor House Museum
Bromwich Hall - West Bromwich Manor House Museum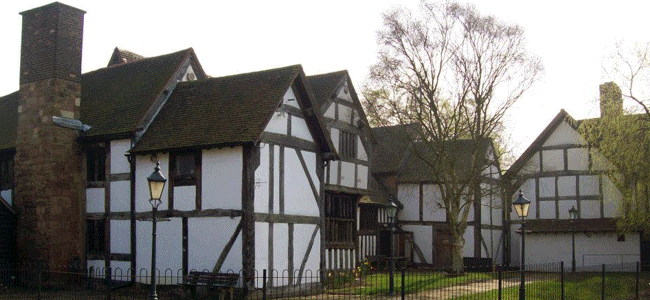 History - Discover 750 years of stories
Murder, grave robbing and insanity are all part of the story of this fascinating and unique building - the Manor House or Bromwic Hall has seen it all. Built by Richard de Marnham in the 1270s, Bromwich Hall is now probably one of the most important surviving medieval timber framed buildings in the Midlands and the most recent building to become part of Sandwell Museum Service.
The construction of its great hall is thought to be the earliest of this type of construction in the country in a standing building.
Over its 750 year history Bromwich Hall has been the home of a number of notable residents including the Solicitor General to Charles I. It has also been the home of ordinary families when it became tenements in the later 1800s. The site was a public house from the 1960s and when it first opened was an extremely prestigious venue, where footballers and VIPs would dine. The pub closed in 2009 and the building is now back in the guardianship of Sandwell Council and looked after by Sandwell Museum Service.
The building is now a heritage visitor attraction and used for a variety of community projects and activities and new activities are happening all the time. There is also a lively programme of events and activities. However please bear with us as the building is very much work in progress.
Opening Times
Weekdays
The house and grounds are open on Tuesdays by free timed entry tickets and at other times as advertised. You will receive an introductory talk and then can explore 800 years of history at your own pace, discovering the home of the Lords of the Manor, the tenements and pub! Pre-booking for weekday visits is essential although entrance is FREE. Please arrive at your timeslot time, there will be no admission until then. Tickets for 5, 12 and 19 July are available now You can pre-book here by following this link. The house won't be open on 26th July in order install equipment for an event
Weekends
We are open once a month at weekends for you to explore our old beams and learn about 800 years of history as well as enjoy our programme of entertainment.
Saturday 9 July: House and grounds open 11am-3pm. Between 12:30pm and 2:30pm you can also visit the Wise Woman in the great hall. A family friendly look at medicine and cures in medieval and Tudor times. You may even get to chop off a leg! Entry Free no need to book
Saturday 6 August. House and grounds open 11am-3pm. You can also enjoy our games day event in the grounds. Entry Free, no need to book.
Find out about our special events and activities. Click for more information about visiting and to book your tickets if required.
Please note access to the whole building is not always available on special event or activity days. If you are interested in seeing the whole building and learning about its fascinating story then please come along on one of our special open days as advertised. You could also book your group or organisation in for a private guided tour at a small cost. Give us a call for more information and availability. Call 0121 588 2985 Tuesdays or Wednesdays or email BromwichHall_Museum@sandwell.gov.uk
Where to find us
Getting to us
Parking
Parking is available on site in our free car park. Accessible parking is near to the house
Accessibility
Please read our accessibility guide to help you to enjoy your visit. Please do not hesitate to contact us before your visit on 0121 588 2985 Tuesdays or Wednesdays if you wish to know more or ask a member of staff for assistance during your visit. You can also email us at BromwichHall_Museum@sandwell.gov.uk
Access into the building is limited due to the size and nature of the site. There are some steep steps and there isn't a lift available. However there is access into the great hall where staff will be on hand to give you further information and show you photos of the rest of the building if you require it.
Dogs - assistance dogs only.
Assistance dogs are very welcome on site and inside the museum, however we don't allow other dogs on site, in the grounds or inside the buildings.
Refreshments
Our volunteers serve tea, coffee, cold drinks and snacks on activity or event days. However you are welcome to bring a picnic and a picnic blanket to enjoy in the grounds.
Contact us
Phone: 0121 588 2985
email: BromwichHall_Museum@sandwell.gov.uk
You can also find us on Facebook, twitter and Instagram @sandwellmuseum
Well I never knew that! Museum Musings
Get behind the scenes gossip and information as well as some fascinating history bits and bobs with our museum blog.
In the picture
Enjoy pictures of Bromwich Hall from our Flikr album
Check out some of the events and activities on site with our activities album
Bromwich Hall, Great Hall
Events and Activities
Find out what's on at the Manor House including school holiday fun and bank holiday opening
Museums for schools
Check out our schools activity sessions or call us if you have a bespoke project in mind.
Other visitor information
Please note we are unable to accommodate pushchairs inside the building.
Visit the new Discover Sandwell website with information about what's on in Sandwell and what there is to see and do. This site is being developed all the time.
Free parking is available on site.