The Manor House Museum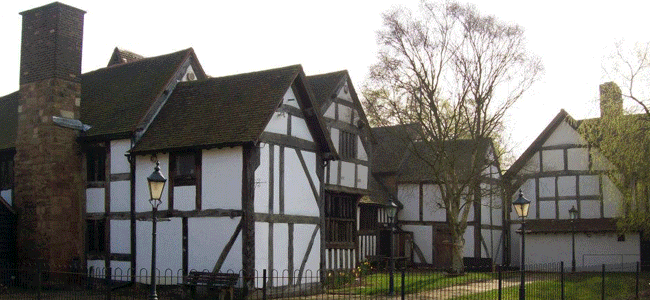 Murder, grave robbing and insanity are all part of the story of this fascinating and unique building - the Manor House has seen it all.
Built by Richard de Marnham in the 1270s, The Manor House is now probably one of the most important surviving medieval timber framed buildings in the Midlands and the most recent building to become part of Sandwell Museum Service.
The construction of its great hall is thought to be the earliest of this type of construction in the country in a standing building.
The Museum had been a public house since the 1960s and when it first opened was an extremely prestigious venue, where footballers and VIPs would dine.
The building is now back in the guardianship of Sandwell Council and looked after by Sandwell Museum Service.
We are slowly turning the building into a heritage visitor attraction and for use for a variety of community projects and activities so new activities are happening all the time. However please bare with us as the building is work in progress.
Opening times
The Manor House Museum is open for special events and activities, school holiday fun, Bank Holiday Mondays and much more throughout the year and free guided tours between the end of July and the middle of September on Sundays as advertised on the 'What's On' section of the Museum Service web pages.
Please note access to the whole building is only available by guided tour. Full access is not available on event days unless guided tours are also being offered.
Open for guided tours:
Click this link to for information about our FREE guided tours between July and September 2017.
Please note that due to the current nature of the site access to the whole building is by guided tours only, on event days only parts of the building may be open. If you want to have a good look at the whole building and learn about its history then please do come on one of our free guided tours.
Guided tours - We provide free guided tours of the buildings one weekend per month between April and November and on Thursdays, Fridays, Saturdays and Sundays from the end of July to the end of September. Look out for specific dates on our what's on page. Access to the whole building on other days such as event days is not possible.
Entrance to the museum is free unless a specific chargeable event is advertised.
Contact us
You can call us on 0121 588 2985. Please note that staff are not able to man the phones at all times. Please leave a message and we will get back to you as soon as we can.

For general queries you can email us on museumarts_tourism@sandwell.gov.uk but please note that opening times details and links to our events and activities listings is detailed above. If you are looking to make a booking please call the house on 0121 588 2985.
Getting to us
Find out more.
You can follow us on twitter @sandwellmuseums
Museums for schools
Check out our schools activity sessions or call us if you have a bespoke project in mind.
Other visitor information
Please note we are unable to accommodate pushchairs inside the building.
Free parking is available on site.
In the picture
For photos of the Manor House and its events check out our photostream on Flickr