Safer 6 in your town
Our annual autumn six-week Safer 6 campaign runs across our six towns.
Organisations target their efforts and provide extra reassurance as the nights draw in – a time when crime and anti-social behaviour can often rise.
This builds on their close work together day in, day out throughout the year through the Safer Sandwell Partnership to make Sandwell a safer and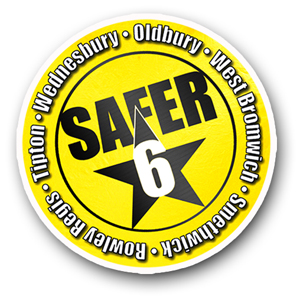 cleaner.
The 10th annual Safer 6 campaign ran for six weeks from Saturday 7 September to Sunday 20 October 2019.
Read a round-up of the results so far from this year's campaign. This is just a snapshot as results are still coming in.
Each town had a focus week with activities and events:
The key themes of this year's campaign were:
Tackling crime and anti-social behaviour
Supporting young people
Tackling environmental issues
Supporting vulnerable people
Working with partner organisations and local people
Follow the campaign on Twitter using the #Safer6 and #SaferSandwell hashtags.
Sandwell Council led this year's campaign with support from Sandwell Police, West Midlands Fire Service and a wide range of partner organisations and community groups.
Email the Safer 6 team at safer_6@sandwell.gov.uk for more information.
Useful information
Get advice on reporting anti-social behaviour, including environmental problems, nuisance neighbours, off road motorbike nuisance, modern slavery and hate crime.
We also have lots of health advice, including advice and support about drug and alcohol misuse.
Pages in "Safer 6 in your town"
You are here Safer 6 in your town